As I have mentioned before, my desk is definitely the "problem area" for clutter in my house! It is located in the "kitchen nook" of our house and is basically the central location between the living room and the kitchen. Our play area is also located in the "kitchen nook". Needless to say, I spend a lot of time each day walking past the desk or near the desk. It easily becomes the "catch-all" for everything!
When I don't have time to "deal" with something as I should…junk mail, things that need to be filed, things that need to written in my planner, etc…it ends up on the desk! When one of the girls colors me a picture (this happens multiple times throughout the day…they love to color!)…they put it on the desk! Coupons? On the desk. Receipts? On the desk. Magazines and catalogs? Yep…on the desk!! Kylea's school papers…
on.the.desk
! You get the point, right? Do you need a picture to prove it? Okay…..
Yep….there it is. AHHHH!
Are you still with me after that? I think I may have scared some of you away with that picture!
This picture was taken right after the holidays….right during the time that I was sick for
2 weeks
with some crazy virus that lots of the little kids I know had (not mine, thank goodness!!)…and right during the time that I was tearing my house apart trying to simplify and organize every area of the house (except this one obviously!). Still….there is no excuse for this!!
So…. I cleared every.single.paper off of the desk and put it into a box! I only left the things on the desk that I wanted to stay on the desk permanently!
Aside from the fact that I now had a box full of papers and other
junk
things that needed to be sorted through, I already felt so much better!!
I used my Basic H2 to remove the dust from the surface of my desk. You wouldn't think that dust would be able to accumulate on the surface of the desk since it had previously been covered in layer after layer of paper, but….it did!
Nice! Check out that
shine
!!!
In order for me to avoid the "paper mountain" from occurring again, I knew that I needed to develop a system for the paper that enters our home on a daily basis. I have been thinking about this for a
long
time, but it was now time to put some of the ideas into action!
I remember seeing a post about an
errand center over on Aby Garvey's blog, Simplify 101
. I loved the idea of having a container of some type to keep paper items organized on a desktop. This is what hers looks like:
I wasn't sure what time of container I wanted to use so I just kept an eye out for something when I visited the stores that I normally go to. I was at Lowe's and spotted this set of 3 baskets…
I wanted it to blend nicely with the décor of the living room and kitchen so I knew that it would work perfect!
This is what I ended up with…
All of my paper items contained in a pretty little basket! It m
akes me happy just to look at it!
Of course, my
planner
is in there…
front and center
!
I use it
multiple
times throughout the day so I knew it had to be easily accessible! I discussed how I use my planner in my post
"Starting Fresh",
but here is an inside look at how I organize my columns:
My husband and I each have our own column and my girls share a column for now. Simple things that I need to remember to do for the day….such as to call someone or pull some chicken out of the freezer for dinner…go in the "To Do" column. I also write birthdays/anniversaries at the bottom of the "To Do" column. About a week ahead of time, I assign a meal for each day. I will be discussing more about my meal planning process in an upcoming post.
Next in my basket, I keep a spiral notebook. I use this for recording my grocery shopping list.
Throughout the week, if I realize that we are running low on something, I take a couple of seconds to add it to my grocery list.
Am I the only one that writes my grocery list out according to the layout of the grocery store?
In my case, produce goes in the top left, pantry/staple items go underneath the produce on the left, meat goes at the top right, refrigerated/freezer items go on the right side under the meat, and the bread items go on the bottom right. I follow this throughout the week as I add things to the list and it makes it
much easier
when I am at the store.
I guess I don't care if I am the only one because…it works for me!
Last fall, I purchased a green quatrefoil patterned clipboard at Target…
on clearance
…yay!
Recently, I have been seeing posts about people using matching file folders.
"i heart organizing"….
one of my absolute
favorite
blogs that I have been following for quite a while now…did a series called "Project Paper" this month…and
she had the file folders!!
So…since I visit Target very frequently…..
I love Target
….I looked for them the next time I was there. I looked where all of the other file folders were at, but they weren't there. I was so sad! I went to 3 other office supply stores to look for pretty file folders for this project, but I just couldn't find anything I liked. Don't get me wrong, Office Max has a
great
selection of decorative file folders, but they just didn't match the picture in my head of the completed project.
Then, another time when I was at Target, I happened to go down a different aisle in the office supply section and
there they were!!
(I
may
have let out a squeal of joy when I spotted them…..
maybe.
)
So…I brought them home and got to work with my Cricut to label them! I don't mind handwriting the labels on the files in my filing cabinet, but it wasn't the look I was going for with this project. The file folders came with some printable labels that I could have used, but…once again…didn't match the "picture in my head." Luckily, I have quite a bit of vinyl on hand for various projects that I have been doing.
BTW—
ExpressionsVinyl.com
is the best place that I have found to purchase sheets of vinyl. They have so many different kinds in so many different colors. They just added printable vinyl that I can't wait to try!
At this point, I have 6 folders:
"To Do":
forms/applications, appointment cards, flyers, etc…
"Coupons":
I print various coupons out as I come across them throughout the week. I don't always take the time to cut them out and file them in my coupon accordion file (more on my coupon "system" in another post soon). I also receive quite a few coupons in the mail or come across coupons in magazines so this is a great place to keep them until I can file them so that they aren't scattered all over my desk.
"To File":
This is mainly for recipes or articles/photos that I pull out of magazines until I can file them away (more on that later too). I also put large receipts (like the full size receipt that came with my top-secret purchase from the Container Store…yay!) in there until I can enter it into my money program.
"Shaklee":
This is where I keep some reference materials for my Shaklee business along with the 2011 catalog. I also have a file folder for Shaklee in my file cabinet (to be featured soon), but this folder is for frequently referenced notes and info.
"Handmade by Kiki":
In addition to my Shaklee business, I also
make and sell handmade items
. This is where I keep patterns that I am currently using or other items related to my business.
"Scraps":
My printer recently gave up on me and I was forced to replace it. Booooo! I try to keep scrap paper for printing unimportant items (I print my coupons on papers that only have print on one side that I no longer need if I have them lying around) or if my girls want paper to color on. I used to be able to keep them under the paper tray of my old printer, but my new printer doesn't have that space so…I keep them in this pretty file folder now!
I have extra file folders so I can always add to these if I need to.
Behind the file folders, I keep my notebook. I have actually been using this notebook for a couple of years now, but it used to be hidden in a drawer. Now that it was going to be out on the desk, I needed to "pretty it up" a little. I just used one of the extra file folders and slipped it into the front cover and binding of the notebook:
I just need to add some sort of label onto the front of it and it will be perfect! This notebook holds all of the important information that our family needs. I use dividers to create sections and page protectors to hold things too. Some of the things that I keep in here are….school calendars, important phone numbers, my Christmas card list, etc.
I have a section in there right now with the information that I have been collecting on creating our own vegetable garden. It is something that we have wanted to try for a while now so hopefully it will actually happen this year!
In the front part of the basket, I have a small container to keep my receipts that I need to enter. I plan to go through these at least once a week..hopefully more frequently though.
To the right of that basket is where I keep my camera. I like to have it easily accessible! I never know when one of my girls is going to do something cute or funny….like
totally
enjoy their first candy necklace even if it is
super
messy:
So there you have it…my new "desk system". So far…so good! I still end up with a few random papers on my desk throughout the day, but it is much better than it used to be now that everything has a place!
I even made a fun little tag to remind me of my goal to
Simplify!!
Before:
After:
What a difference!
There are less than 10 days to take advantage of the AWESOME deal that Shaklee is offering this month. Receive a FREE CINCH SAMPLER PACK (a $101 value) with a new member or distributor purchase of $70. Wow! Read more about it
here.
Also, there is a great deal available at checkout through my online shop. E-mail me for details...you don't want to miss out on this!
I'm linking up to:
The Trendy Treehouse: Creative Share Blog Hop
Remodelaholic: Remodelaholics Anonymous
The Girl Creative: Just something I whipped up
Fingerprints on the Fridge: Feature Yourself Friday
It's a Hodgepodge Life: It's a Hodgepodge Friday
Kojo Designs: Friday Fun Finds
Tidymom: I'm Lovin It
Raising Homemaker: Homemaking Link Up Day
Simply Designing: Simply Link Party
The Romantic Home: Show and Tell Friday
The Shabby Nest: Frugal Friday
Chic on a Shoestring Decorating: Flaunt it Friday
A Few of My Favorite Things: Favorite Things Friday
Sassy Sites: Operation Organization
Tater Tots and Jello: Weekend Wrap Up Party
Kuzak's Closet: Sister Sister Sunday
Serenity Now: Weekend Bloggy Reading
Under the Table and Dreaming: The Sunday Showcase Party
Dittle Dattle: Amaze Me Monday
The DIY Showoff: Project Parade
The Girl Creative: Just Something I Whipped Up
Making the World Cuter Monday
Between Naps on the Porch: Metamorphosis Monday
Keeping it Simple: Motivate Me Monday
Organize with Sandy: Organizing Mission Monday
Saturday Mornings: Strut your Stuff
Homebody: Mondays Tips and Tricks
New Nostalgia: Anti-Procrastination Tuesday
Not Just a Housewife: Show Me What Ya Got
Thrifty 101: DIY Thrifty Thursday
Organizing Junkie: 52 Weeks of Organizing
Homebody: Monday's Tips and Tricks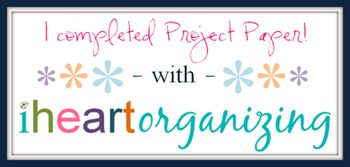 So....what have you been organizing?
I would love it if you would link up your organization projects this month. At the end of the month, I will feature my favorites!